Amenities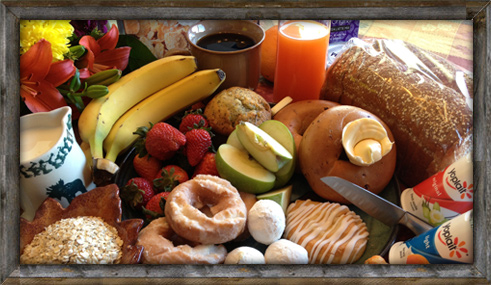 (NOTE: Amenities are different for the Log Cabin than for the house, so please scroll down to to the bottom to see those.)
Your generous CONTINENTAL BREAKFAST is stocked in each room's kitchenette housing a microwave oven, toaster oven, coffee maker and compact refrigerator/freezer. Once booked, each is stocked with coffee, creamer, sugar, flavored teas, fresh fruit, pastries, hot and cold cereals, yogurts, milk, juice, bagels and creamed cheese, bread, butter, jelly, and often boiled eggs (combinations of contents vary)
Each of the 6 Rooms/Suites will provide the following amenities for our guests: The items are either located in the room or stocked in the adjoining restroom.
Alaskan decor
TV/VCR/DVD, cassette, CD Player
Wi/Fi Broadband Internet
Flyers, pamphlets and maps for vacation activities and tourist attractions
Alaskan books and magazines
Extra blankets and pillows
Ironing board and iron
Fire extinguisher
All 7 bathrooms are complete with towels, washcloths, and hair dryers.
For a $5 fee, our washer and dryer may be used, laundry soap is provided.(located in the main house)
***The Log Cain***
Alaskan decor in all rooms.  There is wifi througout the cabin.  TVs are mounted for streaming your favorite shows. For washer/dryer, you will need to come up to the main house. Each of the 2.5 bathrooms has plenty of towels, soap, shampoo and basic toiletries including hair dryers.  There are ironing boards and an iron in the hall storage closet at the top of the stairs, extra blankets, Alaska reading material, full kitchen with cook stove, microwave, toaster oven, coffee maker and a full sized refrigerator.  There is pancake mix in the fridge to start your time. Fire extinguisher is by the kitchen. There is a radio/CD player/cassette player in the living room.